Epcot combines culture, interactivity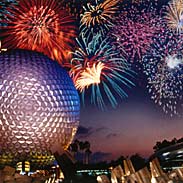 At Epcot at Walt Disney World, you can celebrate the fascinating cultures and numerous wonders of the world around you through dazzling shows, interactive experiences and amazing attractions.
Epcot features pavilions from Canada, China, France, Germany, Italy, Japan, Mexico, Morocco, Norway, the United States and the United Kingdom. Each pavilion reflects the history and culture of its nation. Each nation also feature food native to its culture. Epcot is one of the few places you can get that many differing types of 5 star food.

Epcot Attractions
Spaceship Earth -- Perhaps the single iconic symbol Spaceship Earth is an experience like no other. Step into the world-renowned 180-foot-tall geosphere to explore the stirring story of human communication. A slow moving tram will transport guests through the dome and experience hundreds of different sets. The 16-minute ride where take you from the time before man to into the 21st century and beyond. Spaceship Earth might be the most exciting ride at Epcot but it is sure to be a memorable experience.
Mission: SPACE -- Ever wonder what traveling to Mars would be like? Well wonder no longer, Mission Space simulates a short 5 and half-minute ride to mars. The ride takes you from lift off to touch down. There are two different options for this ride, keep your eyes open to pick the right one for you, a orange team that will experience G forces up to 2.4 twice that of earths pull, and the green team which has the same store and experience just doesn't get to experience the G forces. Mission: Space is great ride for all guests over 40 inches perfect for older kids and adults.
Soarin -- The newest addition to Epcot is Soarin, this unique ride takes its passages 40 feet up in the air. This new attraction suspends passengers on their stomach over a 180 degree IMAX dome. During the ride you will sore over the Golden State of California. You will go over a number of landmarks like the Golden Gate Bridge, Napa Valley, and Yosemite National park. Through the ride keep your senses clear because each area has a specific smell, be sure to keep your nose open for the orange blossoms.
The Seas with Nemo & Friends -- Riding in a "clamobile" is an experience hat you don't want to miss out on. In this ride for all ages you get to step into a clamobile and dive into the depths of the sea and help Marlin and Dory find Nemo who is playfully hiding in the seas corals. Just as the ride is ending is the best part as you get to see a 5.7 million gallon saltwater tank.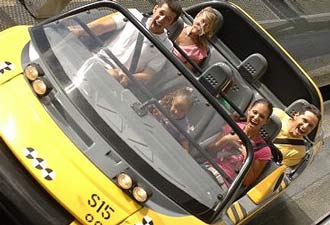 Test Track -- Much like the name suggests test track is well… a test track. Get strapped into a large test car and enjoy the ride. As the ride you will begin with gentle turns that get rougher and tighter. The car will get its suspension tested on bumps, rocks, and other obstacles. The ride has an incline acceleration, and break test where you go from 35 to 0 in only a few feet. The car is tested in both cold and hot temperatures are you pass through various test champers. The ride finishes with taking a 50 degree bank at 60MPH. this is a great ride for all guests over 40 inches.
Turtle Talk with Crush -- At this new attraction kids of all ages will have the opportunity to ask Crush that tubular turtle from Finding Nemo any question they would like. Crush is 3D and computer generated by advance techniques. He is voice activated by the kids and can respond in real time.
Living with the Land -- In the world of farming technique is every thing and Epcot is exploring new ways to grow plants. Living with the Land is a nice 14-minute boat ride into Future World. Here Epcot is growing many different crops that are found all around the world. There is rice, sugar cane, and bananas. Living with the Land is a beautiful boat ride that will take you through the desert lands and all the way back to the lush landscape of Florida.

Innoventions -- This is one of my favorite parts of Epcot. It isn't a ride but almost a museum. Innovention is two building filled with fun and interesting things. The east building has fun stull like Sum of all Thrills where you can create our very own roller coaster then ride it in a simulator. Other exhibits include Storm Struck, Test the Limits Lab another favorite as household objects are put to the test to see which ones are the safest. On the west side the fun continues with The Great Piggy Bank Adventure, Smarter Planet, Videogame Playground, and Where's the Fire? All of these exhibits are fun and entertaining especially the video game playground, you get the opportunity to put on a helmet and become the game with these start of the art games.